WARNING: This bracket was done in about 2 1/2 minutes before Big Blue Insider (6pm weeknights on 630 WLAP or wlap.com) on Tuesday night. USE THIS BRACKET AT YOUR OWN RISK.
East Region: Pretty much going chalk only upsets by the numbers are; #9 Virginia Tech over #8 Wisconsin, #6 SMU beating #3 Baylor in the 2nd round and #2 Duke beating #1 Villanova to advance to the Final Four. Duke is super talented and I don't think anyone else in this region is all that great.
West Region: The battle of the smart schools comes down to who has been there before so #9 Vanderbilt will defeat #8 Northwestern. #11 Xavier will beat #6 Maryland and then take down a talented #3 Florida State team to advance to the sweet 16. #5 Notre Dame will beat #4 "Press" Virginia to advance to the sweet 16. Either Sean Miller or Gonzaga will get their first Final Four. I THINK GONZAGA WILL GET TO THE FINAL FOUR!
Midwest Region: Lets get weird. #11 Rhode Island is going to the Elite 8. Some lower seed has to make a run and who doesn't like a Rhody. The Rams will take down #7 Creighton (who lost a starting guard), #3 Oregon (who lost a starting forward) and #7 Michigan. Yep Michigan will defeat #2 Louisville. The Wolverines will ride the feel good story of their Big Ten Tournament Championship run and get through the first weekend. Then reality will set in and Rhode Island will be there to take advantage. On the other side #4 Purdue will beat #1 Kansas in the sweet 16. Purdue has possibly the best big man in the country in Caleb Swanigan and the Jayhawks are thin on the front line. Finally the Boiler Makers will end Rhode Island's magically run and advance to the Final 4.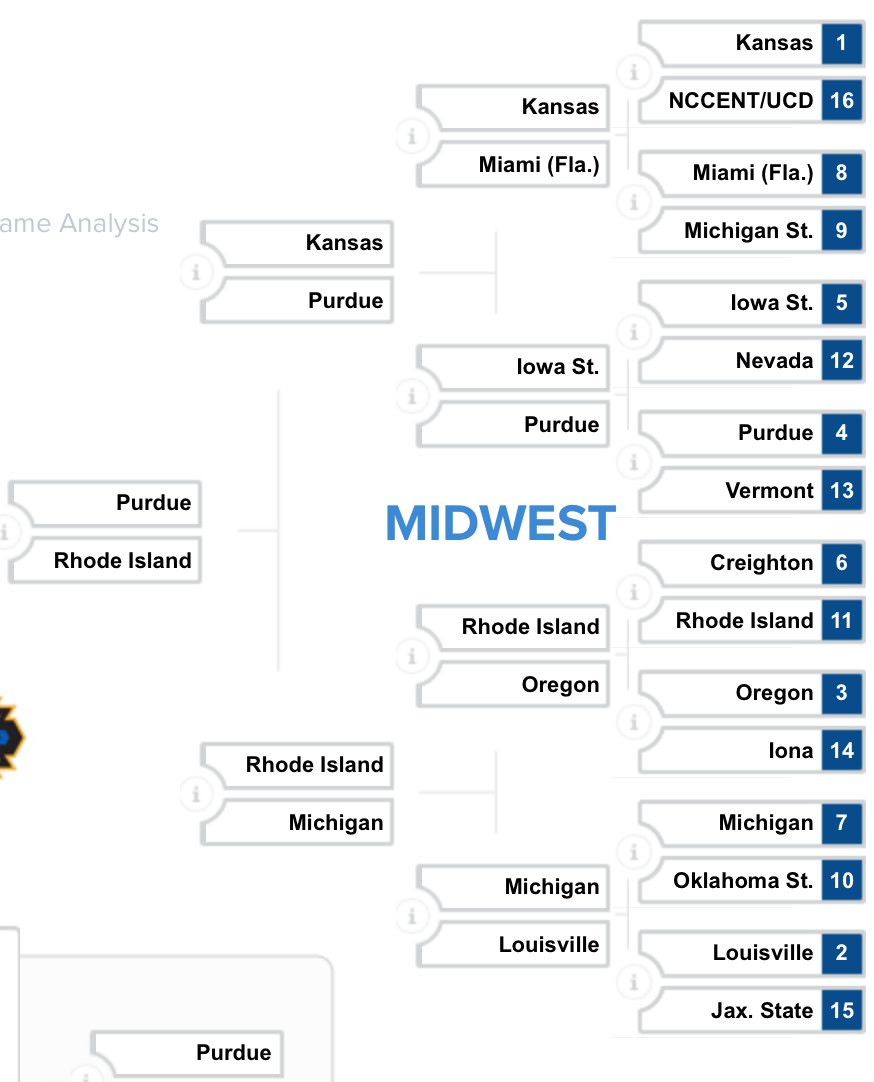 South Region: #13 Winthrop will get to the 2nd weekend upsetting #4 Butler (who only got that seed for beating Villanova twice) and #5 Minnesota. That will give #1 North Carolina an easy path to the Elite Eight. #6 Cincinnati will get Lavar Ball out of the headlines for a few days when they beat #3 UCLA to advance to the Sweet 16. The Bearcats play quality defense and there is a lot of UCLA hype that I don't fully buy into. #2 Kentucky will handle Cincinnati and then defeat North Carolina (again) to advance to the Final 4.
Final Four: Duke vs Gonzaga and Purdue vs Kentucky. Everyone will be excited for a potential Kentucky vs Duke championship game…. too bad it won't happen. Gonzaga will be motivated by everyone crowning Duke before the game even starts and the Zags will shut up the haters and advance to the championship game. With Bam Adebayo Kentucky will be able to slow Swanigan down enough to advance. That sets up a "What is right about college basketball" (Gonzaga) vs "What is wrong with college basketball" (Kentucky). Wildcats prevail. Derek Willis will hit a late 3 for Kentucky to take a lead and Kentucky will wrap up a win on Dominique Hawkins steal. Final: Kentucky 69, Gonzaga 65.
Tell me where I am wrong…..