Boise, Idaho – Kentucky defeated Davidson 78-73 in Boise Idaho to advance to the 2nd round of the NCAA tournament. Kevin Knox lead the way for Kentucky with 25 points. Knox took over in the second half scoring 16 of his points in that period. The opposite was true for PJ Washington who scored 11 points, all in the 1st half.
Shai Gilgeous-Alexander began the game cold, going 1-8 from the floor, but he heated up late making 4 of his last 5 attempts. Gilgeous-Alexander also added 8 rebounds, which led  the team and 7 assists, also a team high. Hamidou Daillo also stuffed the stat sheet, he finished with 8 points, 3 rebounds, 3 blocks, a steal and an assist.
Post game presser transcript
John Calipari, Kevin Knox,Shai Gilgeous-Alexander
THE MODERATOR: We'd like to welcome University of Kentucky.
JOHN CALIPARI: It was a good one for this young team. First time they've been in the NCAA Tournament, not knowing what to expect. If you come out to play the way we did in the second half, our season will be over. The way they played in the second half, I thought defensively, to play a team that's as efficient and an execution team like Davidson, this young team did pretty good.
And we had some breakdowns late and I got upset with a couple of the guys, based on the fact that you cannot do what you're choosing to do. We're a team and you cannot just break off. They're freshmen, and they're learning. We're learning game to game now. Every one of these experiences is new.
Kevin made some shots, Sacha is playing better and better, and he made shots, and Shai controlled the game at the end to take us over the finish line, barely.
Q. You brought up yesterday that the main thing that you saw on tape was the 3-point shooting. Was there anything in the game that surprised you from Davidson?
SHAI GILGEOUS-ALEXANDER: Nothing really surprised us. We scouted really good and Coach got us prepared for the game. But in terms of physically, it took a lot from me personally guarding them, their actions, they don't stop moving.
SACHA KILLEYA-JONES: Everything Shai said sums it up. They're a shooting team. We expected that. They got off a lot of 3s, and they played strong through their actions, their offense was tiring. But we did what we could.
KEVIN KNOX: They did a real good job of knocking down the shots they got open.
Q. For the past three weeks we can't get through a press conference without Coach Cal saying something about your game. How does it feel when the lights are brightest, the stage biggest, and your game finally coming around?
SACHA KILLEYA-JONES: It feels good that I'm playing well. Mostly I'm just happy that the team is winning games, and anything I can do to contribute to that is going to obviously feel great. And I'm glad I'm doing my part.
And like I said, we're winning games and we are exactly where we want to be, and looking forward to keep going.
Q. What's been the difference these last couple of weeks? Seems like you continually have been playing well. What was the difference today for you?
SHAI GILGEOUS-ALEXANDER: Personally, I don't think I played too well today. Yeah, I've just been trying to do what I worked on and do what Coach is asking me, what this team needs me to do. Today I didn't do too well. My shots weren't falling. I got a little selfishness. I'm going to learn from it and get better for the next game and try to do better next time.
Q. You guys did not make a three tonight, which is strange. Do you think about that?
JOHN CALIPARI: I just looked at the stat sheet myself.
Q. I'm going to get to you.
JOHN CALIPARI: They don't know, because I didn't know.
Q. Do you try to make one, do you try to get hot?
KEVIN KNOX: I didn't know that at all. We just shoot the shots that were open. They didn't fall tonight. It's rare for us not to get a 3-point shot. But yeah, I didn't know the whole game.
Q. You all are young men, you're about as far away from Lexington that you can get in the United States. There's a lot of pressure in the season, are you enjoying yourselves here?
KEVIN KNOX: Yes, I'm really enjoying myself here. Idaho, there's not much to do here, but I'm enjoying it. First time to be in this state.
I'm here to play basketball, get these two wins and get back to Lexington with two Ws.
Q. I'm curious, when the crowd is upset, they're looking for an upset, cheering for Davidson, and you were able to pull it through, what's going through your mind when you hear the crowd roar for the other team?
KEVIN KNOX: We were making plays down the stretch, executing offense to get stops on defense, and that's what it comes to down the stretch of the game. They were making runs, but we responded pretty well for freshmen.
Like Coach said, we have to mature some day. This is the time of year it's win or go home. We have to make plays down the stretch. And Davidson did a really good job. Down the stretch we executed our offense and got some stops down the stretch.
Q. You were young the last time this happened. It's been 30 years since Kentucky didn't make a three.
JOHN CALIPARI: 30? I was nine years old then (laughter).
Q. It's a fluke? I know you've been struggling with this all season.
JOHN CALIPARI: We really haven't. In the last five games we shot over 40 percent. But we're not a team that relies on 3s. I wouldn't like to go 0-6, but we'd like to make five, six, seven, maybe eight 3s. There's other teams that need to make 12, 13, 14 to win; we're just not one of them.
Second half we didn't guard. We just kind of let it go. We exchanged baskets. But I thought the first half proved that this young team could guard an execution team that really runs their stuff hard and really does a good job. But, again, we were trying to go inside. We were trying to go inside, we were trying to drive the ball. I told Hami, Put your head down and get to the rim. He did a good job of it. We wanted to get to the free throw line, we wanted to post it some. We thought that was our advantage.
Their advantage is they were going to take 30 3s; they took 33. We held them to 33 percent on the year; they're probably 40 percent.
Q. You talked about some of your struggles. Just talk about some things you'd like to see your guys improve on moving forward?
JOHN CALIPARI: We became undisciplined. There was a stretch where guys did what they wanted to do. Just tried to steal a guy and foul and it was like, Wait a minute, we don't stand behind the post; we were standing dead behind the post. I don't know if they were tired or so anxious the first 20 minutes, like tired them out. They have never been in this tournament. We start five freshmen.
And I think they were — I even thought we were tired to start the game. It looked that way. Then we got our legs and I took a couple of guys out, we played with more energy and we got going. But this is all new to these kids. And it's an exciting thing.
I'm holding them accountable, I'm not just clapping right now. Because each time you play the next game you're going to have to play more of a well-rounded game. You cannot have three bad minutes because you'll be down 12. Now you're down 12, you can't come back in this kind of tournament, because those teams make free throws, they're good defensive teams or they wouldn't still be playing. They're tough rebounding teams. You can't have three minutes of a breakdown. And that's what I was on them today about a little bit.
Q. How would Aldridge or Grady fair in the SEC?
JOHN CALIPARI: They'd do fine, on all the tapes. I had friends of mine from within the league and told me, You know, they have guys that could play for you guys. And they do.
I also looked at their stats prior to the game within their league. They're in the top 1, 2 or 3 in almost every category in their league. Bob has done a great job. They play a style that's hard. One advantage we had, Rick Barnes and Bobby are really good friends, so a lot of stuff that Tennessee runs is similar to what we faced today. So we had an advantage.
We had a short-term, we had a day off, one day of practice, and then open gym here to get ready. If we had never seen this stuff before, we would have had no chance, none. We just had played Tennessee three times so a lot of the stuff is similar.
Q. What are the things that you did well in this game you'll need to continue to do well moving forward?
JOHN CALIPARI: You have to defend and rebound in this thing. Again, we can't go 0-for from the 3-point line. You have to make some shots. And I always say this: You don't have to make them all. You just can't miss them all. You can't miss every one. And then you can't miss them bad because they're demoralizing. This is a good shooting team. But we only took six. If we took 6 more we'd have been 6-12.
Q. How would you rate your overall defensive effort in this game?
JOHN CALIPARI: First half really good. Second half shaky.
Q. You brought up how you held Davidson to 11 of 30 3s. How did you go about defensively scheming against that?
JOHN CALIPARI: They drive baseline better than anything we play. We worked on a day and a half on just when they caught it on the wing, make them go middle. They go baseline, that's how they create 3-point shots for themselves. They find areas to shoot.
The second thing was we wanted to be up, because our length we felt would bother them. But when Gudmundsson made four in a row, we were like, Guys, is anybody watching the game? And then — well, he was lucky. Lucky? He just made four in a row. He's not lucky; get up and make him put it on the floor.
I told them in this tournament you enjoy wins, but you still need to learn that if we played the way we played in the second half, it's been a heck of a year, but you're not advancing, doesn't matter who you play. You've got to play 40 minutes and fight like heck and then go back to the hotel room and pass out. And then get a day in between. This is not a conference tournament where it's game, game, game. You have a day in between to recover.

Davidson Quotes
Bob McKillop, Peyton Aldridge, Will Magarity
THE MODERATOR: Welcome Davidson College.
BOB McKILLOP: Congratulations to the University of Kentucky. They made life on both the defensive end and the offensive end difficult.
I have such incredible gratitude to the Davidson players for the way they made this one of the most joyful seasons of my life. To see them cap off the season with a NCAA berth and then go toe-to-toe with a storied school like Kentucky gives me great pride as well as the great joy. And it's a memory I'll treasure forever.
Q. John just said that he was obviously extremely concerned, as you expect, with the 3-point shooting. And he felt it was essential to use their length to get up on you guys, more than they might against a typical team. Could you talk a little about that and to what extent you thought that affected you tonight?
PEYTON ALDRIDGE: Yeah, they're a very long team. And tonight I thought I got some open looks early on, even later on they didn't fall. They did a good job of knowing where I was at and trying to close out every time I saw the ball.
Q. Looking back at the season and your careers at Davidson, how are you going to look back at this four years ten years from now?
PEYTON ALDRIDGE: This has been one of the best four years of my life. I couldn't be any more proud of the Davidson community, Davidson College. It means everything to me. They're my family. I love each and every one of the guys, each and every one of the coaches. You'll never be able to take Davidson College away from me.
WILL MAGARITY: I decided to come here from — when I transferred in. The first day I was here I knew right away this was family. This is a different program. The way that Coach really instills trust, commitment, and care every single day. It's hard work, but we love what we do. And I think this season is an accumulation of everything and is really the peak of it. I'll treasure this for the rest of my life.
Q. What sort of difficulties did Kentucky present defensively that you might not have otherwise seen this season, if any?
BOB McKILLOP: I think the ability to defend the rim, to take away maybe four or six layups that we normally would have had. And with taking away the rim they were still able to close out on our shooters at the arc. So I would say in the first half there were four or five layups that came up empty. And in fact, led to baskets by them.
I felt their break on the ball, which was very deceptive. They're not a denial team, but they have the ability to close space very quickly. And there were, I think, three occasions they closed space very quickly, got steals and baskets. When you add it all up, that's the game right there. This was a two-possession game, and we ran out of time.
Q. Early in the game it seemed like your team was focusing getting back on defense. But partway through the game you were crashing the board. Was that a change in the game plan or what was the decision?
BOB McKILLOP: It wasn't a change. A few more of the balls were going through the net. We did a much better job of tipping out long rebounds, and I think that was where the offensive rebounds occurred on the tip-outs, much more so than securing them and going back up with them. But I thought that the ball went through the net a little bit more the second half.
Q. I'm more fascinated with this than anyone, but Kentucky did not make a three tonight. Did you know that?
BOB McKILLOP: We sure did. And that was a point of emphasis. And may have caused us the problem of sending them to the line as much as we did. And having them score points in the paint as much as they did. The point of emphasis was on a couple of their shooters, but not to the point of not being connected. And I thought we had such a sense of urgency about covering their shooters that we didn't stay connected on penetration. And there were several penetrations that we should have had much more help, which we didn't, because we were concerned about the shooters.
Q. Along the same lines, it's so rare, would you have almost always bet the house that if you held any team without a three that you would win?
BOB McKILLOP: Well, when they send them to the line for 32 shots and they make 80 percent of them, you're putting yourself in jeopardy right away. And you give them a couple of undefended baskets with turnovers, you're talking about 35 points right there. And that 35 points in a 5-point game is very pivotal.
I'd also like to make one comment. The fans in Boise, the hospitality here in Boise, the people that worked, the police department, the people in our hotel absolutely sensational. I could not be more impressed, felt more a sense of belonging here, welcomed here. And, boy, it's going to leave a lasting memory with our players, with our program and with our coaches because the people of Boise are just absolutely sensational. So thanks to them.
FastScripts Transcript by ASAP Sports
Postgame interviews 
Kevin Knox
Shai Gilgeous-Alexander
Sacha Killeya-Jones
Hamidou Diallo
Quade Green 
Wenyen Gabriel 
Game notes 
From UK Athletics
Team Records and Series Notes
Kentucky is 25-10 overall. Davison is 21-12.
UK leads the series 2-0. Both meetings have come in the NCAA Tournament.
Next for Kentucky: The Wildcats will play the winner of this evening's Arizona vs. Buffalo game.
NCAA Tournament Notes
Kentucky made its national-record 57th NCAA Tournament, extending the NCAA record for most tournament appearances.
UK owns a 125-50 record all-time in NCAA action.
Kentucky is 47-10 in tournament openers and has won 24 of its last 25 first-round tournament games.
o   UK has won eight NCAA Tournament openers in a row, all under Calipari.
Kentucky is 27-6 in NCAA Tournament games under Calipari.
In Calipari's eight NCAA Tournament appearances with Kentucky, the Wildcats have reached the second round every time.
Calipari is undefeated in the NCAA Tournament against teams seeded lower than 10th.
In the First Half
Kentucky's starting lineup featured Shai Gilgeous-Alexander, Hamidou Diallo, Kevin Knox, PJ Washington and Nick Richards for the 15th time this season. UK is 10-5 with this lineup.
Neither team led by more than four in the first 10 minutes.
o   Kentucky opened up its largest lead, six points, with a 6-0 run over 2:30 to take a 23-17 lead at the 7:10 mark.
o   Davidson answered with a Kellan Grady dunk at the 6:54 mark, but then UK went on a 7-0 run over 1:07 to open up a 30-19 lead.
From tied at 17-17 with 11:39 to play, UK outscored Davidson 17-7 to close the first half. 
In the Second Half
Davidson made its first three 3-point-attempts of the half, and stretched further was 4 of 6 from beyond the arc in the first 11:52.
Davidson tied the game at 52-52 and 54-54 at the 7:41 mark, but got not closer.
Kentucky led by as much as 11 points in the second half as late as with 24 seconds to go.
Team Notes
UK's NCAA-record streak of 1,047 consecutive games with at least one made 3-pointer came to an end.
o   UK's last game without a made 3-pointer came against Seton Hall on Nov. 26, 1988 in a three-point loss.
o   Kentucky's streak started two nights later in a win over Cal.
Kentucky limited Davidson to 39.3 percent from the field.
o   UK is now 168-14 under Calipari when keeping the opponent under 40 percent from the field.
Kentucky shot 51.0 percent from the field today. UK is 13-1 this season when the Wildcats make at least half their shots.
UK had 10 turnovers today. UK is 14-0 this season when committing 11 or fewer miscues.
UK led by as many as 13 points today.  The Wildcats are 232-5 under Calipari when leading by at least 10 points during a game.
Player Notes
Kevin Knox scored 25 points, 16 of them coming in the second half. He shot 8 of 16 from the field.
It was his team-leading 10th game with 20 or more points.
It was his team-leading 28th game with 10 or more points.
Knox failed to make a 3-pointer for the first time in 12 games.
Shai Gilgeous-Alexander, after a slow start, finished with 19 points,  a career-high eight rebounds, seven assists and a career-high five steals.
After starting 1 for 8 from the floor, he made four of his next five shots and scored 17 points in the second half.
His five steals are tied for the fourth most in an NCAA Tournament game by a Wildcats
PJ Washington scored 11 points, all in the first half, marking the sixth time he reached double-figures in a first half this season, and the first time since Feb. 20 at Arkansas.
Hamidou Diallo scored eight points.
He blocked a career-high three shots.
Sacha Killeya-Jones posted eight points and grabbed six rebounds.
His eight points were his most since scoring eight vs. Louisville on Dec. 29.
His six rebounds were his most since grabbing eight vs. ETSU on Nov. 17.
Coach John Calipari
Calipari has a 718-203 all-time on-court record.
Calipari is now 274-63 at Kentucky.
Calipari is 52-17 in the NCAA Tournament games.
Calipari is 27-6 in NCAA Tournament games at UK.
Box score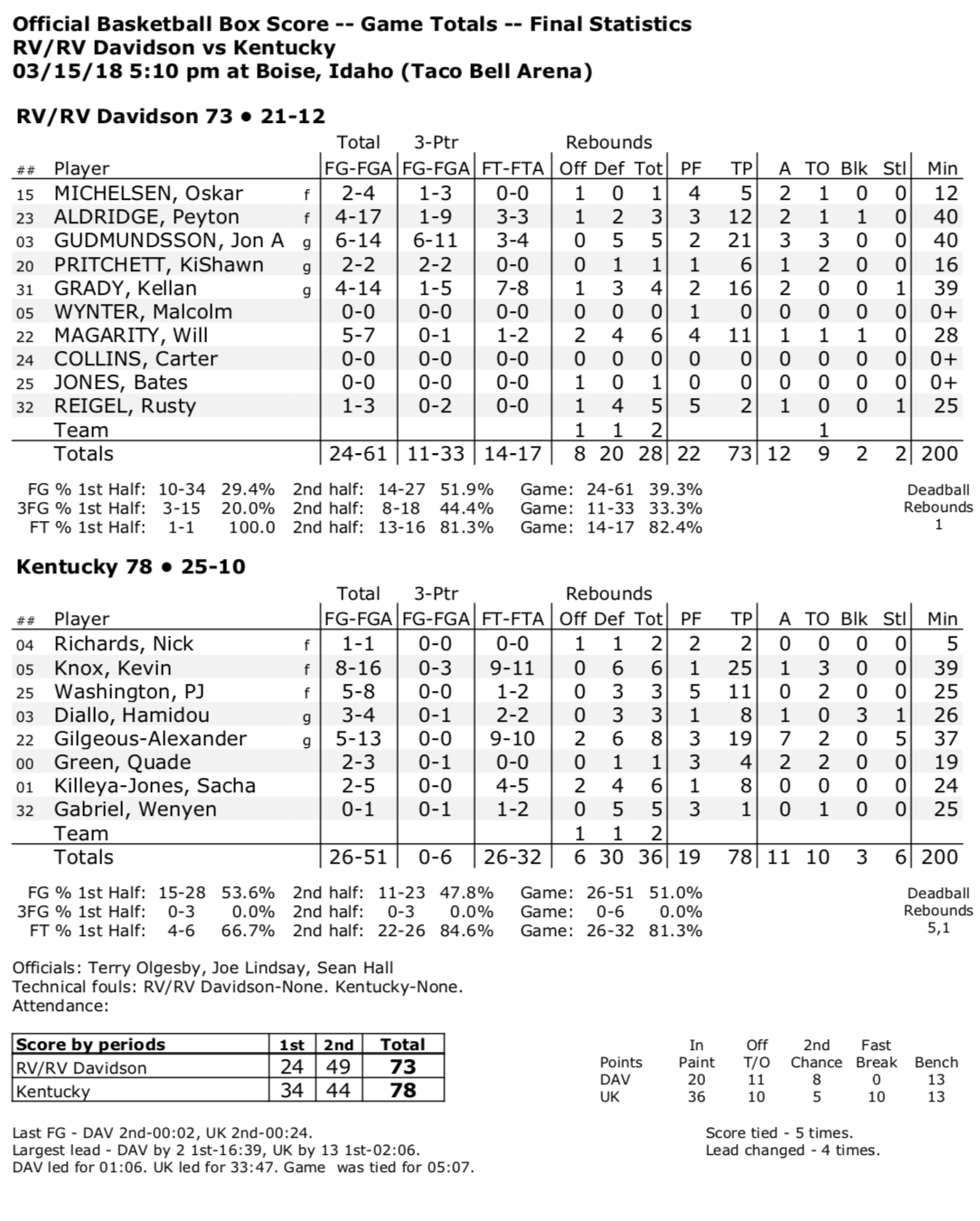 Season Stats