After practice some members of the defensive line and their position coach answered questions about the scrimmage, leadership and improvement.
Jacob Hyde is one of the leaders on the team especially after some losing some players during camp. He said discipline and holding guys accountable is how he is filled the leadership role. Hyde said "I do anything to help this team." And this season he is more ready to contribute because of work off the field, "I feel more equipment from a mental aspect." On what it would mean to get UK to the next level the Kentucky native said, "You can't even describe that." Also to relax he goes frog gigging.
Jacob Hyde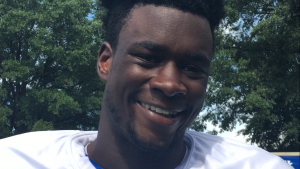 Kengara Daniel talked about the scrimmage on Saturday, "I feel like it went pretty well, I got a lot of quarterback pressures and TFLs (tackles for losses)." Daniel called pass rushing his speciality and that can be how he contributes to the team. On Jacob Hyde's leadership Daniel said, "He makes sure everything is in line." Daniel's feels he has most improved his hands and hips during camp.
Kengara Daniel
Tymere Dubose talks about stepping up after losing defensive starters during camp. He said during the scrimmage he played assignment perfect. Dubose also talked about how even if he doesn't make tackles he could be making the right play. When asked about Jacob Hyde being a leader Dubose said, "He's like a coach." adding, "He makes sure we are on the right track." Dubose also mentioned that if others mess up Hyde sometimes gets in trouble because he is viewed as a leader.
Tymere Dubose
Brumbaugh said of Jacob Hyde, "He takes control of the room. He's a guy who has been here for a while he understands what I'm looking for from the standpoint of how you carry yourself in the meeting room and off the field."
On how the defensive line did in the scrimmage, "they did some good things," adding "We just got to get 10% better each day"
Coach Jimmy Brumbaugh