Kentucky defeated the Crusaders of Valparaiso in front of a crowd of 21,805 inside Rupp Arena
Calipari postgame comments
Valpariaso Coach postgame comments

From UK Athletics
Men's Basketball Postgame Notes
Valparaiso at Kentucky, Rupp Arena, Lexington, Ky.
December 7, 2016
Attendance: 21,805 
Final Score: No. 6/7 Kentucky 87, Valparaiso 63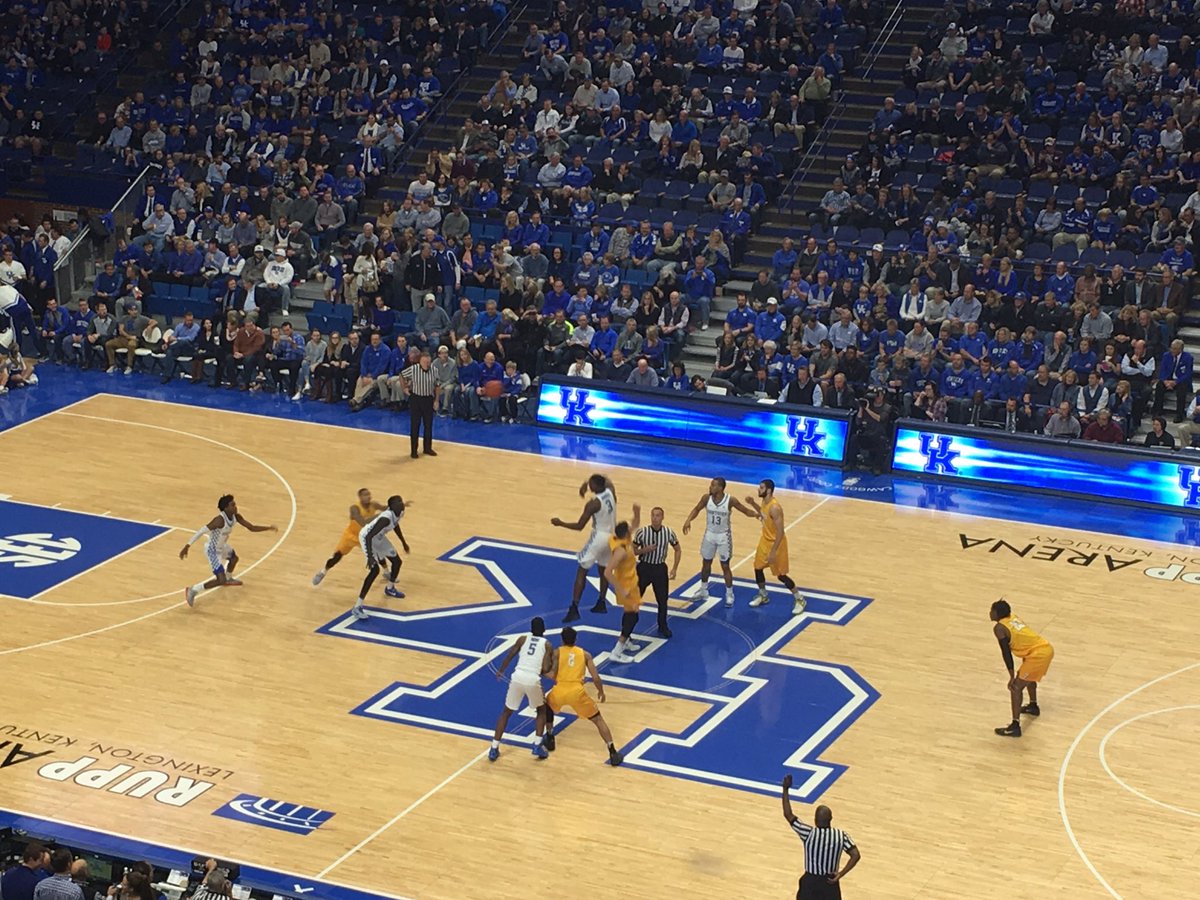 Team Records and Series Notes
Kentucky is 8-1. Valparaiso is 7-2.
Kentucky leads the series 2-0.
Kentucky begins a four-game stretch away from home against Hofstra on Sunday at the Barclays Center in Brooklyn, N.Y.  The game will be televised on ESPN at 3 p.m.
Tonight marked UK's last home game of the 2016 calendar year.  The Wildcats' next home action is Jan. 3 against Texas A&M.
In the First Half
Kentucky started the lineup of Isaiah Briscoe, De'Aaron Fox, Malik Monk, Wenyen Gabriel and Bam Adebayo for the third game in a row and fourth time this season.
Tied at 4, Kentucky went on a 21-0 spurt – its biggest run of the season – for a 25-4 lead.
Early in the run Monk canned a 3-point shot, extending Kentucky's streak of 3-pointers to 984 consecutive games, the longest streak in the nation.
The Wildcats led by as many as 28 points (39-11) before heading to halftime ahead 45-24.
In the Second Half
Kentucky stretched the lead to 34 points on two occasions, 71-37 and 73-39.
Team Notes
Kentucky is now 35-7 (.833) under Coach John Calipari in "bounce back" games following a loss.
Kentucky is 138-5 under Calipari when holding the opponent to 63 or fewer points.
Valparaiso had 19 turnovers tonight, leading to a 19-11 advantage in second-chance points.  UK opponents have had at least 17 miscues in all but one game this season.
Kentucky showed its strength around the basket, winning rebounding 48-41 and points in the paint, 46-32.
Calipari has a 670-188 (.781) on-court record, including a 225-48 (.824) mark at UK.
Kentucky has an all-time mark of 552-65 (.895) in Rupp Arena.

UK is 125-5 (.962) at Rupp Arena under John Calipari.
UK has a 40-game home winning streak against unranked opponents.
Player Notes
Freshman Bam Adebayo led the Wildcats with 16 points, the first time he has paced the team in scoring. He added seven rebounds, tying for the team best in that category.
Freshman Malik Monk had 15 points and has reached double figures in all nine games this season.
Senior Derek Willis tallied 12 points, his third straight game in double figures.
Sophomore Isaiah Briscoe had 10 points.  He has scored double digits in all seven games he has played, missing two because of injury.
Freshman De'Aaron Fox had nine points – first time all season under double figures – but played a solid floor game with seven rebounds and five assists. He has led the team in assists in eight of nine games this season.
Senior Mychal Mulder had nine points and corralled seven rebounds, just one shy of his career high.
Box Score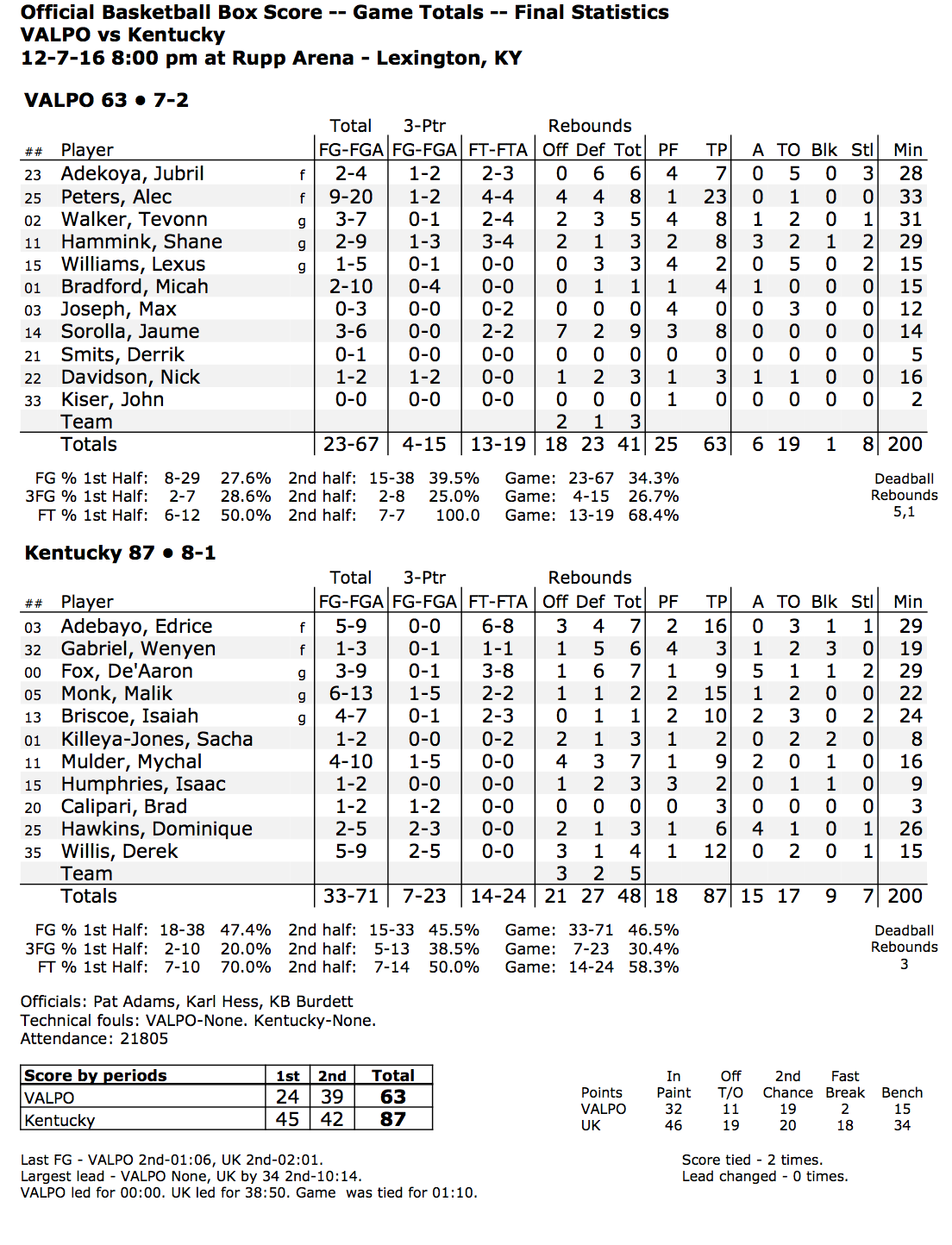 Season Stats
From UK Athletics
John Calipari 
Postgame Press Conference Transcript
Dec. 7, 2016
Your thoughts on your defense coming off the UCLA game?
"I thought all we talked about was energy. I worked for two days on our team. I did a little bit of stuff on them. A couple cuts that they do, some dribble drive. They (Valparaiso) are a heck of a team. They're going to win 25, 30 games. They won 30 last year, they may do the same this year. Our whole point of a team that plays a little bit slower, you have to disrupt that team. UCLA was going to play fast, whatever we did. So you're pressing them to get into their legs, you're not pressing them to be disruptive. That's not what you would do. This team, that's what we tried to do."
"With Peters, it was hard because he still got 23, and he had seven at the half. The minute you let up, the minute we backed up, he scored. He's that good. But, again, that's a team. That was a heck of a win for us. I was worried about that game because when I watched the tape and how they played and what they did, it's exactly what bothered us. Straight line drives, getting people to the rim, isolations, isolating a guy that's struggles defensively; that's the kind of stuff they did. But it was a good. We gave up too many rebounds, too many offensive rebounds and we'll watch the tape on that. But I was happy with the effort."
"If someone didn't play, I subbed them. You're out. You're either playing like there's no tomorrow, and that doesn't mean foul and go nuts, it means you play with unbelievable energy or you're out. I'm playing somebody else."
What were they doing well against (Alec) Peters early when he was struggling a little?
"We were just trapping and going at him and making him think, so he couldn't get into a rhythm. You saw the one he shot on Isaiah Briscoe we he turned and just shot. If he gets in rhythm, he's making baskets. He's that good. I think, I don't know what happened with his legs. My hope is we were running so fast that he started cramping, because we want to fly."
"Again, we had seven turnovers, unforced, in the first four or five minutes of the game. We're averaging 10 turnovers a game. We had seven unforced (turnover) in the first four or five minutes. I would say that maybe is the dregs from the last game. But, again, we have a ways to go, but this was a good win."
You talked about bringing energy, that's what you talked about. How do you do that, how do you try to produce more energy from these guys?
"We practice that way. I put Isaiah opposite De'Aaron Fox so they could go head to head, had two different teams and they competed like crazy. If you practice that way, you'll play that way. If you're casual, you're casual in a shoot around, you're going to play that way. We're getting better. I mean, again, how did we miss all these? Who missed the free throws? De'Aaron Fox. Wow. He and Sacha."
Can you just talk about the way that Dominique's playing?
"He was great. Mychal was good, too. Mychal walked in the game and tipped a ball so that we could rebound and get a play. Then there's not pressure on you. If you'll defend, scramble, hustle and dive on the floor, you don't have to make shots all the time.You can stay in the game. If you're not going after balls, you're getting beat on defense and you miss two shots, you won't believe this. We're trying to win. Then you can't stay in the game. I mean, Dom goes in and just changed the whole complexion because of how he defended on the ball and he kind of disrupted what they were doing offensively. Their point guard got those two fouls right away, and then got a third because of how we played. He had to keep people off him."
Q. Sort of along those lines, did Mychal show you enough tonight?
"Well, I had planned on being in the rotation, having a rotation and I just said I don't care what happens in the game, we're going to go in a rotation, and I'm going to try to stay with it. What I want to do is have him and Isaiah on the court together because Isaiah makes Mychal comfortable. Isaiah figures out ways of getting him shots he can make and Isaiah will talk to him through defense and help him. He just makes him more comfortable on the court. As we sub, when Isaiah Briscoe comes out, the next time he goes back in, I'll usually put Mike with him."
"We still, Isaac and Sacha, we still have to get — Derek made some shots, he missed some wide open shots, and then he made shots. But we, Derek, Wenyen, Sacha and Issac fight more, defend more and rebound more. They just, they got to come up."
"I thought that, again, like Wenyen, I'm telling him shoot balls, man, just shoot balls. If you're open, let it go. Don't drive and charge, don't try to ball, just catch it and either shoot it or get rid of it. He's a great finisher. And again, he had three blocks today, six rebounds and he played like 19 minutes, 20 minutes."
Q. What did you think of Wenyen and Derek and the defense they played on Peters?
"I'm going to watch the tape. There were some good things and then they just got tired. I think our team's able to play about four minutes at a stretch and then they have to come out. I'm playing some other guys a little bit more than that, because they're capable. All in all, I think it's four to five minutes and that's it. I told them, 'I can't wait until finals are over so we can start three-a-day,' and get this thing right. They have finals next week. Get through those by Wednesday, and it's from that, Katy bar the door, right there. Let's go. I said, you get to eat, sleep, video games. I'll give you a little time for your video games, and then we're playing basketball."
Wenyen said yesterday you brought back a couple things to practice, fundamental things. What were those and did they pay off tonight?
"Yeah, they did. They're scrambling stuff. Look, we got away. I've done this for 30 years, and the reality of it is there's certain drills that I've done every day. At the beginning of the year you watch us practice, we're doing those drills. At the end of the year, we're still doing the drills. Maybe shorter, but we're doing them, and I got away from a bunch of those, and we reverted. As the players, we didn't pass, we didn't give up the ball like we had been. We didn't defend and scramble and help."
"To be honest, they played with more energy than us. I had to call a timeout a minute into the game. This game, the way the game started, even though we turned it over, you could see the energy in one team. Energy shows our athleticism. Lack of energy shows all the other warts that we have. We are so fast. 'Well, why wouldn't you run fast? I didn't feel like it on that play, I'm going to just kind of jog.' What? Fly every play. When you can't fly, you come out. If I see guys not flying, I'll take them out. I mean, I'm not saying on missed shots or turnovers. I'm saying you don't have energy, you're not flying up and down that court, you're out."
What did Peters show you after he returned from injury there in the second half?
"I know how good he is. I grabbed him after and I said, 'I love watching tape of him play.' He just knows how to get shots. He knows how to get people in the air. He's a great foul shooter. I'm stunned he only got four fouls off today. Normally, he's getting 9 or 10, as you know. He goes eight rebounds, 23 points, all I said is, 'he's going to get his, let's make it hard.' Don't leave your feet, don't put him on the free-throw line, and don't give him straight-line drives. Make him score through your chest. If he can do that, great. That's what we tried to do. There was no — and I put different guys on him. I went from Bam to Wenyen to Derek to Isaiah Briscoe. We put all kind of guys on him."
How do you keep your young guys from kind of losing their mind when there are 27 NBA scouts in the building?
"Probably they didn't know, unless they read the paper, where I said there were going to be a lot of NBA scouts there. They probably don't know. Like I said, there were signs today that we could be really good. Then the question is, how good do we want to be? Do you want to come and practice and get better or are you looking for ways to, I mean, this is hard for these kids. They have never, in their lives, practiced this way. And what I'm saying is, I'm not saying they weren't coached and all, I'm saying they were never in the gym every day with players this good, going against each other, every day. Every day like Dom is playing De'Aaron Fox or Isaiah Briscoe and they're trying to take his lunch. So, Bam is trying to dunk on Isaac. Isaac's trying to score on Sacha. Wenyen and Derek are going at each other, because they're trying to get minutes. So, every day Malik is going against Mychal. Hard matchup, but if Mychal can stay in front of Malik, he can guard anybody. So, it's a way that they need to build and go, but again, let me just say this about Valpo. You're talking about a team that beat a bunch of people already, all on the road or neutral sites. They beat Rhode Island at home, a top-25 team. That energy is how we have to come out every day, and it's hard. But you know what? It is what it is and you're here. We're playing everybody's best shot, we got to disrupt, we got to be the aggressor, we got to attack the basket, we got to make the extra pass and we got to make easy plays. You have to dunk balls that are around the rim. Can't turn it over 17 times. But again, seven were in the first four minutes of the game."
UK MEDIA RELATOINS
MEN'S BASKETBALL
UK vs. Valpo
Dec. 7, 2016
Rupp Arena – Lexington, Ky. 
Valpo Coach Matt Lottich Quotes 
Opening statement…
"First off, I thought our guys never quit and I'm really proud of the effort that we showed. It's a lot of emotion for us to come in here and play in an environment like this against a team of the caliber of Kentucky. I thought that we were a little rushed, a little fast the first half. I thought their pressure had a lot to do with that. The second half, I was proud of our boys and proud of our fight. I've said from day one that we have a resilient group and that I thought that they showed that tonight. There's no doubt about it the Wildcats are a fantastic team and I know they've got some ambitious goals and they have the talent to achieve those goals. We appreciate the opportunity to come in here. We learned a lot about ourselves, and there is some positives that we can take away from this game for sure. I'm just proud of the effort. We've got to regroup. There's some guys that play a lot of minutes. It's a very physical game. We have another game coming up here on our road trip, so we're just looking ahead. I'm proud of the effort tonight. We played a great team with a lot of energy."
On how he felt Kentucky's defense played…
"The one thing we didn't want was for them to lose to UCLA, and they did definitely re-focus their defense. The thing that they have is supreme athleticism. They pressure you all the way up the floor, and they don't make passes easy. They're very disciplined on the defensive end, very well-coached. I thought they had a good game plan against Alec [Peters]. They started switching everything and I thought he remained very patient. The one thing about Alec is that he's going to continue to fight and fight and fight and fight. I thought he displayed that tonight. Despite their defensive efforts, I think he had over 20 points so he's pretty efficient in the process of doing it. I wouldn't trade Alec Peters for anyone in the country."
On Kentucky's offense…
"I think their best offense honestly is transition. For us, our game plan coming in was to make sure we took good shots so we could fly up the court. I thought, in the first half, we took a lot of quick shots and they sped us up a lot and really got out and feeling good in transition. Obviously when you have post players the size and the caliber that they have and shooting and penetrating ability, it's just tough to stop. Their zone was always effective. At times, the funny thing is if they miss, we're going to go get it. I thought there was numerous times out there where we stopped them and they were just playing volleyball with the ball during the offensive pass."
Alec Peters having to leave the game…
"Alec is fine. I think it was a little bit of cramping, or maybe a charlie horse. It would take a crowbar to keep him off the court. He was mad when I took him out there with three minutes, but I thought it was time to look forward and get some of our young guys to run."
On Lexus Williams left with two quick fouls…
"Lexus is our forward general. He brings a lot of emotion and keeps us poised, and so we get three first half fouls. Two of them offensive on some hand-offs, which I thought were tough calls. I mean, it does hurt us, there's no doubt about it, but Micah Bradford came in tonight and really slowed us down a little bit in the second half. Again, there's a positive note we can take away from the game, but it's always hard when your star point guard is out during the first half in foul trouble."
On how this game helps looking forward into the season…
"There's no doubt about it. We have ambitious goals ourselves, and we have a very tough group. A group that loves playing together and loves playing at Valparaiso University. We have post-season goals, and this is a post-season team. If we want to advance anywhere in the post season we're going to have to beat a team like this. For us, when we put the schedule together we wanted to be aggressive. We wanted to be playing Oregon early in the year on their home floor and playing Kentucky on their home floor, if we want to advance far in the tournament then we're going to have to be teams like this. It's a good test and a good measuring ground for us, and we can learn a lot from it."
On what was going through his mind when Kentucky went ahead so fast…
"They got us uncomfortable. They sped us up and I thought we took a lot of quick shots that were a little uncharacteristic of us. Every time out it was just about slowing down, trust the offense and trust one another. We did that and we got a couple of threes at the end of the first half and got into a bit of a rhythm coming back. I think in the second half it carried over a little bit. This is a great team, there's no doubt about it. For us, we knew it was going to be challenging to score, but I'm proud of the way we responded. I think there was times when we could have rolled over and died, but we fought till the end."