In 37 days, UK will kick off its 2018 season.  There are other things UK football fans should know about the number 37…
37 is the number for…  Greg Long, Shane Ball, Albert Burks… 
QB Stephen Johnson's nine-yard TD run in the Music City Bowl pulled the Wildcats to within a point with 37 seconds left to play… The Wildcats scored 37 touchdowns in 2017… UK receivers made 37 catches of 20+ yards last season… All-American Randall Cobb scored 37 touchdowns in his three-year career at UK…   Tim Couch threw 37 touchdowns in 1997…  In 2017, Dorian Baker had four catches for 37 yards vs. Florida … Lynn Bowden returned 37 kickoffs in 2017, seventh-best in the SEC… DE Kengera Daniel made a crucial 4th-and-1 tackle of Vandy's Ralph Webb at the 37-yard-line in the win over the Commodores… As a redshirt freshman in 2016, OL Logan Stenberg had 37 knockdown blocks. He missed only one assignment all season… Following LB Josh Allen's interception, UK scored first in the opening period at Georgia in '17 on a 37-yard field goal… Sihiem King has returned 37 kicks during his UK career… Of his five catches in the Music City Bowl, Tavin Richardson had one for 37 yards, a career best…  Kayaune Ross's season-long reception in '17 was 37 yards… WR Jeff Badet made a 37-yard touchdown catch in UK's win over Louisiana-Lafayette in 2015… The Wildcats set a single-game school record for first downs with 37  in the four-overtime loss to Tennessee in 2007, matching the mark set against Louisville in 1998…  1937 was the year Bert Johnson was chosen in the fifth round by the Brooklyn Dodgers, thus becoming the first UK player ever drafted into the NFL…  There were an estimated 37,000 UK fans at the 1976 Peach Bowl in Atlanta…
ICYMI
38 is the number for…  John Conner, Anwar Stewart, Steve Mazza…
It's hard to believe now, but RB Benny Snell as a high school senior was ranked only the 38th-best prospect in Ohio… WR Dorian Baker caught two passes for 38 yards in the Tax Slayer Bowl vs. Georgia Tech… He also had four catches for 38 yards vs. Florida in 2016…Backup K Miles Butler stepped in when regular P Matt Panton was suspended and punted three times for 38.7 yards vs. Vandy, all three downed inside the 20 yard-line… LB Jamin Davis has been measured with a 38-inch vertical leap… Snell carried a career-high 38 times vs. Missouri in 2016… Last year, Southern Miss rushed 38 times against UK – for only 55 yards… RB Sihiem King, on a play that began on the Charlotte 38-yard line, took a handoff and raced 62 yards for a touchdown in UK's 58-10 victory… QB Andre' Woodson hit WR Stevie Johnson from 38 yards out for a touchdown in the second quarter of the 2007 Music City Bowl win over Florida State…  The Wildcats were on the 38-yard line at Neyland Stadium in 1976 when quarterback Derrick Ramsey hit Greg Woods, who turned it into a 62-yard scoring play in UK's 7-0 win over Tennessee. Immediately after the game, the Wildcats accepted a bid to the Peach Bowl…  
39 is the number for…  Jeff Brady, Don Yarano , Mike Martin, Rob Manchester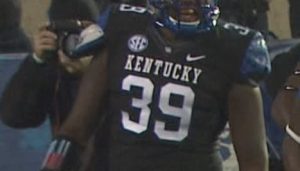 In the '17 Music City Bowl, the UK defense stopped Northwestern on its own 39-yard line, giving Kentucky a chance to score one last TD… In his final game as a Wildcat, WR "Juice" Johnson made two catches for 39 yards in the bowl game… QBs Stephen Johnson and Drew Barker combined for a season-high 39 pass attempts in the bowl game… S Mike Edwards made 39 tackles as a redshirt freshman in 2015… As a freshman in 2016, RB Benny Snell made two catches, good for 39 yards… The UK offense was successful 39.3 percent of the time on third down last season… PK Austin MacGinnis opened the scoring vs. EKU with a 39-yard field goal; UK didn't lead again until inside the three-minute mark of the third quarter. MacGinnis also capped the scoring vs. the Colonels with a 39-yard FG with 3:50 left in the game… The final scoring play in the win at Vandy was likewise a 39-yard field goal… DB Lynn Bowden averaged 39 yards on seven KO returns last season Garrett Johnson's long catch in 2015 was for 39 yards. He did it twice – once against Auburn and once for a touchdown vs. Tennessee… Lou Michaels averaged 39.8 yards/punt for the Wildcats in a career that saw him star as a DT, punter and kicker. He was a two-time All-American and inducted into the College Football Hall of Fame in 1992… QB Derrick Ramsey was responsible for 39 TDs during his UK career (25 rushing, 14 passing)… The height of the video boards in Commonwealth Stadium in each end zone is 39 feet (79 feet long)… In 2000, QB Jared Lorenzen completed 39 passes in 58 attempts vs. Georgia for 528 yards, a UK single-game record…  QB Andre' Woodson completed 39 passes in UK's four-overtime loss to Tennessee in 2007…
40 is the number for… Sonny Collins, Jon Collins, Avery Williamson, Larry Smith, Randy Holleran, Maurice Grinter.

Kentucky has won seven games in back-to-back seasons and finished at .500 in the SEC for the first time in 40 years… TE Justin Rigg had three catches for 40 yards, two in the Music City Bowl, in '17…  PK Austin MacGinnis kicked a 40-yard field goal at the buzzer, giving UK a 20-7 halftime lead at Vandy last year… In 2016, P Grant McKinnis had a season-high seven punts vs. Georgia, averaging 40 yards per kick… UK scored 40 points in its season-opening win over Louisiana-Lafayette… P Landon Foster averaged 40.5 yards per kick in 2015… WR Blake Bone's longest reception of the season went for 40 yards (EKU)…  QB Andre' Woodson threw a total of 40 TD passes, a UK career record…  The total of 40 passes completed in one game is a number met or topped by Tim Couch five times during his UK career…  Kentucky scored a total of 40 points in its comeback win over Louisville in 2007…  UK was on its own 40-yard-line when QB Patrick Towles hit WR Garrett Johnson for a 60-yard touchdown vs Florida in 2014… 
41 is the number for… Josh Allen, Wilbur Hackett,  Danny Trevathan, Steve Campassi…
DB Lonnie Johnson made 41 tackles in 2017… WR Tavin Richardson made a 41-yard catch vs. Southern Miss as a freshman in 2016… WR Garrett "Juice" Johnson made four catches for 41 yards in the win at South Carolina last year… RB Benny Snell had a 41-yard run vs. Louisville in 2017, finishing with 211 yards… "Juice" Johnson led UK receivers with 41.5 receiving yards per game in 2017… RB Derrick Logan holds the single-game record for rushing attempts, twice carrying 41 times in one game – against Mississippi State in 1996 (186 yards) and Georgia that same year (140 yards)… It was at the UK 41-yard line that cornerback Trevard Lindley intercepted Georgia quarterback Matthew Stafford, locking up the Cats' 2006 upset win over the Bulldogs, helping to propel Kentucky to the Music City Bowl… UK gave up 41 touchdowns in 2015… Jerry Claiborne's UK teams won 41 games, the same number as Blanton Collier's Wildcat teams…  UK has beaten a ranked opponent 41 times; the last coming in 2016 vs. #11 U of L…  In 1965, P Larry Seiple, on 4th-and-41, faked the punt and took off, running for a 70-yard TD…
42 is the number for…  Derek Homer, Dean Wells, Scott Shroeder, Muhammed Abdullah, Nick Melillo.  
P Matt Panton averaged 42.3 yards per kick in 2017… CB Derrick Baity had 42 tackles in 2016, his sophomore year… WR Dorian Baker made three catches for 42 yards vs. Georgia in 2016… Panton punted nine times for 42 yards in the season-opening win at Southern Miss last year… The Wildcats had 42 red zone opportunities in 2015, scoring on 35 of them (83%)… WR Rick Kestner in 1964 set a school record with 42 catches, including nine for 185 yards in the upset win over Ole Miss in Jackson. The yardage mark stood until 1998… 1942 was the last year Kentucky played in Washington, D.C., beating George Washington 27-6.  It was also the last year the Cats played Washington & Lee, winning 53-0 in Lexington…  UK scored 28 straight points in a 42-29 comeback win at Arkansas in 2007.  In 2014, from the 42 yard line, Boom Williams raced 58 yards for a touchdown in a 48-14 win over Louisiana-Monroe….
43 is the number for…  Harry Ulinski, Jim Poynter, Mikhail Mabry…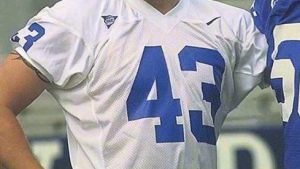 WR Tavin Richardson caught three passes for 43 yards against Georgia last year… CB Chris Westry made a career-high 43 tackles in 2016… UK scored 43 points off turnovers in 2017… WR Jeff Badet caught a 43-yard pass from QB Patrick Towles just before halftime at South Carolina in 2015, helping to set up Kentucky's third TD of the half in what became a 26-22 UK victory…  In 1973, DB Darryl Bishop picked off a pass and returned it 43 yards for the game-winning score against Vanderbilt in Nashville on the last play of the game in a UK 14-7 win… PR Mike Siganos returned 43 punts in 1977, setting a UK single-season record…  CB Trevard Lindley registered 43 career pass break-ups from 2006-09…  P Paul Calhoun averaged 43.2 yards per kick in 1983, becoming the first UK player to lead the SEC in punting average…  Kentucky scored 43 points in an upset win over then-top ranked LSU in 2007… UK was on its own 43 yard line when QB Andre' Woodson connected with WR Stevie Johnson for the game-winning TD against Louisville in 2007…   
44 is the number for…  Mike Siganos, Tim Masthay, David Ginn, Chris Derry, Terry Samuels, John "Shipwreck" Kelly
Kentucky's team-high point total in 2017 was 44 in a win over Vandy… Kayuone Ross caught three passes for 44 yards vs. Louisville last season… Punter Grant McKinnis averaged 44.7 yards per kick at Alabama in 2016… In the 2016 win over Vanderbilt, on the last drive of the game freshman RB Benny Snell ran the ball eight times for 44 yards… Last season, in the victory at Vandy, Derrick Baity picked off a pass and returned it 44 yards, setting up a UK touchdown… DB Mike Edwards in 2017 assisted on 44 tackles, second-highest on the team (Courtney Love, 58)… WR Howard Schnellenberger had 44 career catches during his career. He was a first-team All-America in 1955… Quarterback Andre' Woodson attempted 44 passes, completing 30, vs. Louisville on Sept. 15, 2007.  Four of those strikes went for touchdowns, including one on his last pass of the night – the game-winner to wideout Stevie Johnson in a 40-34 UK victory…  Down 10-0 at Arkansas in 2007, Johnson threw a 44-yard pass to Johnson, setting up the Wildcats' first touchdown in eventual 42-39 upset victory in Fayetteville…  Jeff Bedet caught a 44-yard touchdown pass from Max Smith in the season-opening win over Miami (O.) in 2013… In the history of UK football, there have been 44 ties… UK owns 44 wins over Vandy (and 42 losses)…
45 is the number for…  Marty Moore, Chris Chenault, Lamont Smith, Randy Brooks, Jay Rhodemyre, Mike Kamphake.
Last season, Derrick Baity returned an interception for 45 yards against Vanderbilt… In 2016, Josh Allen had seven sacks for 45 yards in losses… In 2016, long snapper Blake Best was perfect on all 45 extra-point attempts… WR Blake Bone made a spectacular 45-yard catch at Georgia last season… Punter Matt Panton averaged 45.8 yards per kick on four punts in the 2017 Music City Bowl… All-American Glenn Pakulak averaged 45.6 yards per punt in 2002… Receiver Jeff Badet's longest catch went for 45 yards in 2015, against Florida… Austin MacGinnis kicked a 45-yard field goal against the Gators last year with 10:57 left to play; alas, they were the last points scored by the Wildcats in a 14-9 setback… Mark Stoops coached defensive backs for the 2001 national champion Miami Hurricanes, who set a school record with 45 defensive take-aways… Price tag on the Joe Craft Football Training Facility: $45 million…
46 is the number for… Ronnie Sneed, Jerry Claiborne, Reggie Simms. 
In 1946, Bear Bryant took over as UK's head coach… Kentucky kicked 46 extra points in 2017…  In 2016, Mike Edwards returned an interception 46 yards vs. Austin Peay… Linebacker Jordan Jones has six career sacks for a total of 46 yards… FB Moncell Allen led Kentucky with 46 yards rushing in a homefield win over Arkansas in 2008… RB Jojo Kemp averaged 46 yards rushing per game in 2015… WR Garrett Johnson caught a total of 46 passes last year… Backup PK Miles Butler connected from 46 yards out against Charlotte in 2015, his longest field goal of the season… KOR Sihiem King returned a kickoff 46 yards last season at Southern Miss… TE C.J. Conrad and QB Stephen Johnson connected on a 46-yard TD pass vs. Ole Miss last year…
47 is the number for…  Chris Ward, Neil Page, Jabari Johnson, Jordan Bonner…  
The Wildcats have 47 lettermen slated to return for the 2018 season… UK rushed the ball 47 times in wins over South Carolina and Vanderbilt in 2017… P Matt Panton averaged 47.2 yards per kick in the win over Eastern Michigan last year… On a play that started from the opponent's 47-yard line, RB Boom Williams ran for a touchdown (53 yards) in 2015 in a 58-10 win over Charlotte…  RB Jojo Kemp also ran 47 yards for a score against Charlotte. That game marked the first time since 2010 that UK had two players rush for at least 100 yards; the Cats had a total of 415 yards on the ground, fourth most all-time in school history… Kemp averaged 47 all-purpose yards per game last year… In 1947, the Wildcats played in the Great Lakes Bowl, the first bowl game in school history, beating Villanova, 24-14… Fran Curci's UK teams won a total of 47 games…  Long snapper Blake Best started the play that saw PK Austin MacGinnis connect on a game-winning, 47-yard field goal at Louisville in 2016… P Grant McKinnis uncorked a 47-yard punt against Tennessee in 2016…
48 is the number for… Will Thomas Collins, Cam Jacobs, Jeff Snedegar, Joey Couch, Carl Marrillia, Wash Serini, Terry Clayton…  
WR Garrett "Juice" Johnson led UK receivers with 48 catches in 2017… LB Josh Allen had seven sacks for 48 yards in losses in '17… CB Derrick Baity had two interceptions returned for a total of 48 yards in 2017… As a junior in 2016, Dorian Baker made his first catches of the season at Missouri – four, for 48 yards… In 2015, RB Sihiem King's longest KO return went for 48 yards, vs. Missouri…  Punter Grant McKinnis nailed a 48-yard punt in 2016 against New Mexico State… Benny Snell's longest run as a freshman was 48 yards vs. Austin Peay… Before signing with Kentucky, P Max Duffy averaged 48 yards per kick in the Australian Football League… QB Stephen Johnson rushed for 48 yards in the 2017 win over EKU… PK Austin MacGinnis kicked a 48-yard field goal in the fourth quarter of the 2017 Music City Bowl… Announced attendance for the '17 Music City Bowl was more than 48,000… MacGinnis kicked a 48-yarder against Mississippi State in 2015, his longest of the season… MacGinnis also kicked a 48-yard field goal against South Carolina in 2014, ending the first half tied at 17 in a game the Wildcats went on to win, 45-38…  Tim Couch attempted 48 passes in the Outback Bowl, on Jan. 1, 1999, completing 30 for 336 yards and two touchdowns… Couch completed 48 passes in a loss at Arkansas in 1998…  1948 was the first year UK beat a ranked team (#9 Georgia, #10 Vandy)…  It was 48 years between New Year's Day bowl game appearances:  Cotton in 1952, Outback in 1999…   RB Derrick Locke ran for 48 yards in a 42-29 upset win at Arkansas in 2007.  A freshman, Locke was UK's fourth tailback of the day, because of injuries to the first three… PK Lones Seiber kicked a 48-yard field goal four seconds before halftime at Vandy, tying the game at 13-13. Kentucky went on to win, 27-20, in 2007…   QB Maxwell Smith hit RB Jonathan George with a 48-yard scoring pass in a 41-7 win over Miami in 2013, the first victory of the Mark Stoops era…  In 2017, the Wildcats fielded 48 punts and 48 kickoffs.
49 is the number for…  Glenn Pakulak, Mike Schellenberger, Kevin McClelland.  
Derrick Baity made 49 tackles in 2017… In 2017, UK's defense held six opponents to less than 100 yards rushing for the first time since 1949… As a sophomore, Josh Allen had 8.5 TFLs for 49 yards in losses… WR Lynn Bowden made three catches for 49 yards vs. Missouri IN '17; all three went for first downs on scoring drives… PK Lones Seiber kicked 49 field goals from 2006-09, plus 158 PATs, making him UK's all-time scoring leader with 305 points…  DB Bill Boller picked off a pass and returned it 49 yards in the 1947 Great Lakes Bowl, where UK beat Villanova, 24-14…  LSU scored 49 points in a shutout rout of Kentucky in Baton Rouge during the 2006 season.  Rich Brooks calls that the turning point in a UK season that saw the Wildcats finish with a victory in the Music City Bowl… Kicker Miles Butler holds the Paducah Tilghman HS record for longest field goal – 49 yards.
50 is the number for… Jim Kovach, Sam Maxwell, John Maddox, Mike Douglas, Harry Ulinski
  The Wildcats won their first SEC championship in 1950… In 1950, the Cats finished 10-1 and went on to win the Sugar Bowl; also in 1950-51, Kentucky won its third NCAA basketball title in four seasons, thus making it athletically UK's best year ever… QB Vito "Babe" Parilli threw 50 TD passes in his UK career… Tight end C.J. Conrad has 50 career receptions… In 2017, Austin MacGinnis kicked a 50-yard field goal that gave UK a 27-14 lead over Florida with 11:33 left to play…  Punter Matt Panton had five kicks of 50 yards or more in 2017… Andre' Woodson threw 50 passes in the 2007 Music City Bowl, completing 32 for 358 yards and four touchdowns. The attempts and completions are both UK bowl game records, as is the yardage total – 358…  WR Dorian Baker averaged 50 yards per game in receptions in 2015, leading the team…  Landon Foster had six punts of 50 yards or more in 2015… The Wildcats scored 50 points against EKU in the 2007 season-opening victory…